10 Delicious Burgers in New York 2023
If there is a star dish in New York, it is the hamburger. And not just any, since in the city you will find hamburgers of all kinds and at all prices since it is one of its most famous dishes and even in some places, its cooking is taken care of to unsuspected limits.
Fast food chains, bars, fancy restaurants, and countless venues offer many versions, but only a few can make it to a list of the ten best burgers in New York.
After trying quite a few on our two visits to the city of skyscrapers and visiting many of the places to visit in New York, we have made a selection, taking into account the quality/price ratio, of which are the ten best for us. New York burger joints. Let's start!
1. Five Guys
When you first walk into Five Guys and see all their billboards with front pages of major newspapers like The New York Times calling it the best burger in New York, you start to think you've got the place right.
Five Guys has more than 20 fast food outlets throughout the city and is unmistakable for its red and white colors. Of course, remember that although there are Five Guys in other cities such as Barcelona, ​​Madrid, or Washington, where Obama went with his family and where he declared that they were his favorites, the ones in New York have a unique taste. We assure you!
12 Top Beautiful Churches in Rome 2023: Guide
Among its main characteristics, it stands out that the meat and potatoes are not frozen and have high quality; the service is speedy and attentive, and you can usually find a place to sit inside.
We recommend choosing the regular-size burger to which you can add about 15 ingredients or free toppings, be they sauces, vegetables, or mushrooms. You can order shakes of various flavors or soft drinks, which you can refill for free as many times as you want in the machines and add ice.
Our favorite burger is the Bacon Cheeseburger; as a bonus, their fries are the best in New York. We have tried, and as a bonus, right next to the counter, you'll find a barrel of peanuts that you can help yourself to for free to entertain your stomach while you wait for your food.
It must be said that they are not very photogenic hamburgers, and the aluminum foil wrapper, the cardboard bag, and the potatoes thrown inside do not help the presentation much. Still, this, we assure you, after trying them, is the least important thing.
Another incentive to try one of the best hamburgers in New York is its price, usually less than 30 dollars for two people, including the drink and the fries.
2. Shake Shack
If we talk about name or brand, we can say that Shake Shack's are the most famous hamburgers in New York, and you will only find a tourist who has left the city after trying them.
Another of the great attractions of this chain is that there are many Shake Shack stores on the streets of the city; we have found them in shopping centers, some of the best outlets in New York, in subway stations, or even in JFK airport.
Of course, remember that you will see a long queue outside in many of its establishments, located among the best restaurants to eat in New York. Sometimes it is difficult to find a place inside, so if there is more than one of you, it is best for someone to get out of the queue and wait for someone to get up to occupy the table.
When you finish the order at the counter and after paying, they will give you a small electronic device that vibrates and lights up when the order is ready to be picked up.
Remember that the burgers at the Shake ShackThey are unique for their Angus meat, fresh, untreated, juicy, and intense grilled flavor, which sets it apart from other fast food. The ShackBurger and the Smoke Shack Burger are our favorites, accompanied by fries with bacon and melted cheese.
Their shakes or milkshakes are also famous, and we must confess they are perfect! But if you still want to increase the calories on your menu, you can always finish with one of their delicious Frozen Custard ice creams.
As an extra, we will tell you that they have a detail that is appreciated, especially in summer, and that is that on all their premises, they have a free cold water dispenser with glasses.
12 Amazing Things to Do in Mostar 2023: Full Guide
For all this, Shake Shack is another of the best hamburgers in New York, and although it is unusual, all the hamburgers are just as beautiful as those that appear in the photos.
3. Burger Joint, one of the best burgers in New York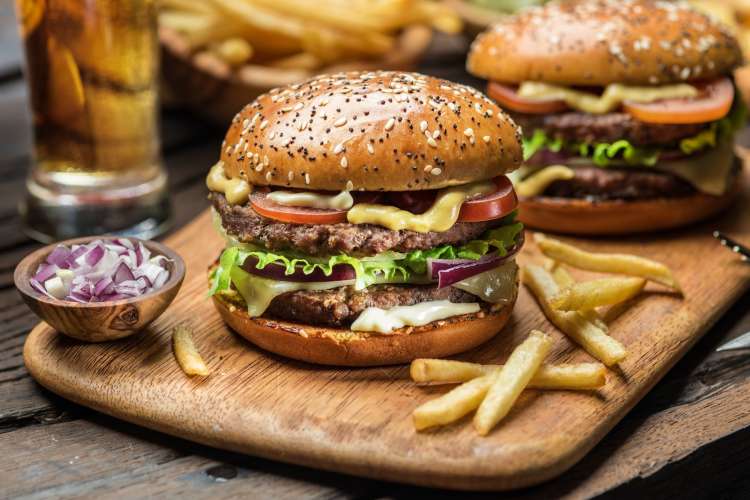 Hidden to the left of the luxury hotel Le Parker Meridien's reception is where one of the best hamburgers in New York is cooked.
It is essential to know that although you will usually find people waiting, the queue moves quickly, and the waiting time is generally manageable, so you should be confident if you are surprised that you are not alone when you arrive.
As an advice, we will tell you that in the queue you can take a piece of paper with the menu, some in Spanish and with a pencil mark everything you want to order. So when you get to the counter, all you have to do is deliver the paper with the order, make the payment, and wait for it to be prepared for you—the best way to pass the waiting time.
The restaurant is tiny and looks more like a music venue because of the walls full of graffiti, signatures, and posters of concerts and movies, and also there are few tables, but people eat quickly and leave quickly. We recommend you do the same, eating after dinner in another place, and thus try not to leave people waiting, eating standing up or outside.
After trying them, we recommend the cheeseburger, with beef they prepare daily, and ask for it with all the "The works" ingredients. During our trip to New York in 11 days, we can assure you that it is one of the best things to do in New York.
Now they have opened some more premises in the Midtown area, but we have to admit that this Le Meridien location is the most special, and if it is close to you or you are passing through the site, it is the most recommended. The price is at most $40 for two people, with two complete menus.
4. Bareburger
For us, Bareburger has its hard-earned place on the list of the best burgers in New York. There are around twenty Bareburgers throughout New York, and it differs from the rest by making its menu with natural and organic products.
Most of its establishments are significant, so you won't have problems finding a table. The interior decoration has a unique charm, with the tables and wooden walls full of small details.
The extensive menu allows you to choose a hamburger with various types of meat, ingredients, sauces, and styles of bread, as well as a selection proposed by them. We recommend the Supreme with bison meat, onion rings, and sweet fries to share as an accompaniment. The price is around 40 dollars for two people.
5. Five Napkin Burger
Five Napkin, separate from Five Guys, as we did the first time, is more of a restaurant than a fast food joint. Although you have many options, we recommend you order the Original Five Napkin Burger with gruyere cheese, caramelized onion, and rosemary aioli. Delicious!
The fresh ground meat in their hamburgers is spectacular and differs in flavor from the other hamburgers we tried. There are four Five Napkins in the Big Apple, although Hell's Kitchen is the original and most famous one, which is where we went.
The price is at most 50 dollars per couple.
6. JG Melon NYC
JG Melon is another of the classic places where tourists from all over the world gather to try the best hamburger in New York.
10 Best Things to Do in Paris 2023: Full Guide
This small, dark restaurant, open since 1972, does not take reservations, although the queues move quickly to try their juicy beef burgers with cheese, toast, and crispy fries for around $20 per person.
In addition to the short wait, another drawback is that they only accept cash payments, and the tables are very close together.
7. Corner Bistro
Another of the best hamburgers in New York is found at the Corner Bistro, a place open since 1961 in the heart of Greenwich Village, which retains its traditional appearance in which wood predominates.
This place with a retro atmosphere and is loaded with the noise of locals, tourists, and TV; you can enjoy a fantastic Bistro Burger with American cheese and bacon for less than 15 dollars.
The best way to avoid wasting time queuing is to book a few days in advance.
8. Minetta Tavern
The Black Label Burger from the Minetta Tavern restaurant, located in the Greenwich Village neighborhood and which also has a Michelin star, is another of the best hamburgers in New York.
Although its price is 35 dollars, somewhat high if we compare it with the New York hamburger restaurant, the extreme quality of the more than 200 grams of meat, accompanied by caramelized onion and French fries, make it an absolute delight for the palate.
9. Black Tap
After a hard day of visits, you can quickly recover all your energy; there is nothing better than devouring the extensive and delicious hamburgers of Black Tap, accompanied by its famous and spectacular milkshakes.
If you're not too hungry, we recommend ordering a hamburger with fries, sweet potatoes, onion rings, and a vast milkshake to share. Do you dare?
10. Jackson Hole
Although our experience was not the best trying these enormous hamburgers, we want to give it another chance when we return to New York due to the number of people who have recommended it to us and the good ratings on all the pages because anyone can have a bad day.
10 Best Things to Do in Pula (Croatia) 2023: Guide
In this charming place, you can eat a tasty hamburger with cheese (Mac and cheese) in the purest American style for less than 20 dollars per person. In addition, the servers are amiable and speak Spanish, another plus that must be addressed.
What is a New York burger?
A juicy burger topped with smoked ham, blueberry jam and melted Arla Muenster Cheese.
What is the most popular burger?
The most eaten and most popular burger in the world by far is the cheeseburger. Invented and popularized by Americans, the cheeseburger is now available all over the world through McDonald's.
What is America's favorite burger restaurant?
In-N-Out is America's favorite burger chain, survey says.
Where is the burger capital of the world?
Why Dallas Is the Burger Capital of the World.