15 Most Amazing Things To Do In Aruba 2022
Aruba is an island nation in the central-southern Caribbean Sea, approximately 29 kilometers north of the Venezu lan Paraguana Peninsula and 80 kilometers northwest of Curaçao. It measures 32 kilometers from its northwestern to its southeastern end and 10 kilometers across at its widest point.
You will not be bored. We've listed the 15 best activities, excursions, and sights to see in this beautiful island oasis in the southern Caribbean Sea.
Aruba is a 69 square kilometer island that is part of the Kingdom of the Netherlands. It is located just north of Venezuela. With Bonaire and Curaçao, Aruba contributes to constituting the illustrious ABC islands. With lush beaches and emerald forests, the consistently sunny and arid island has become a cruiser's favorite destination.
Oranjestad, Aruba – December 4, 2019: Holland America Cruise ship Eurodam docked at Aruba Island.
Whether you want to relax and take in the sights as you walk around the city or want to take a trip to the area's natural wonders and have a wild adventure, you can do all of this and more in Aruba.
Before we get into the 15 best things to do in Aruba, here are some helpful tips on where your cruise will dock and what to expect when you first step off the ship.
Port information
ORANJESTAD, ARUBA: Downtown port and shopping district used for cruise ship passenger tourism
Your cruise ship will stop at the Aruba Ports Authority near Oranjestad and allow you to walk to nearby shops and restaurants. The port is close to city buses that will take you into the city center, and there are taxis available to take you to any excursion or beach on your to-do list.
This port can get quite crowded as it is large enough to accommodate up to five ships at a time, so it's best to plan your trip before getting off the ship, so you know where you want to go right away. There are ATMs nearby where you can withdraw cash to use at local shops and stores in town if you haven't already.
Plus, many of these excursions below are less than half an hour from the cruise port, making them easily accessible on a cruise.
1. Arikok National Park
This park is less than half an hour from the cruise port and offers a short ride to a great all-day destination. With hiking trails, land formations, and plenty of other sights to see, you can spend the entire trip visiting this park.
Arikok National Park is protected by the National Heritage Center and covers over 7,900 acres. As an alternative to the many beaches that can be visited on the island, this park offers natural opportunities for hiking, mountain biking, or fishing for large numbers of cacti.
If you decide to hike, you can climb to the top of either of the two peaks and take in a fantastic view of the island. Along the way, you will see the many limestone and quartz formations that have formed on the trails.
2. Caves of Guadikiriri
These natural caves are for adventurers who want to explore inside the most popular caves located in Arikok National Park and see the flying bats or get a guided tour to learn more. About the history of the caves and the people who once lived there.
Bats that live indoors are harmless, so you can walk around without worrying about them. Guadikiriri Caves are famous for their lighting at different times of the day, which helps to capture great photos.
There are three different caves to explore while you are in this part of the park so that you can do a full day of adventure just in this particular area, so give yourself time to look at all these caves have to do. To offer.
3. Visit of Oranjestad
ORANJESTAD, ARUBA – Lloyd G. Smith Boulevard on a summer day. This main artery of the city has recently become an important commercial area. ID 98544815 © Mihai Andritoiu | Dreamstime.com
As the capital of Aruba, Oranjestad is the heart of the region. With pretty colonial houses, local shops and restaurants, and plenty of other things to do and see, you can spend the day strolling the wide streets and getting a feel for the city.
Many historical sites and museums are visited, which can be achieved with a city tour with a local guide. Take photos of each of the landmarks you visit and stop for lunch at one of the city's local restaurants or cafes before returning to the cruise ship.
Plus, with the town of Oranjestad only about ten minutes from the cruise ports, you can take a quick taxi or choose to do some extra exercise and walk there.
4. Palm Beach
Palm Beach, Aruba – View of Palm Beach on the Caribbean island of Aruba. Several hotels are located on Palm Beach, including the Hyatt Regency Aruba Resort and Spa and Riu Palace Aruba. ID 167704817 © Solaris 13 | Dreamstime.com
If you're up for an exciting day at the beach, Palm Beach is the place to go. This area is just ten minutes from the cruise port and will find you over hot sands faster than other options that will require more travel.
This place is one of the resorts in the area and can get quite crowded, but that comes with plenty of excursions and things to do throughout the day. There are water sports, bars, and steakhouses nearby, and there are also a few casinos for those who want to try their luck at certain card games during their stay.
The water is calm in this ocean area, which allows for activities like snorkeling in the waters with a clear view of the marine life in the coral reef below. Underwater cameras are great for bringing this area so that you can document any sea creatures you find along your journey.
5. Flamingos on Renaissance Island
At the Renaissance Resort in Oranjestad, you can see some of the most famous creatures on the whole island: the flamingos. There is a lot of mystery surrounding these bright pink animals on the shore, as it is not clear exactly how they can get to the island. However, since their arrival, they have been a major sight for tourists and visitors alike.
The Renaissance Resort offers private island day passes to ensure the safety and temperament of the flamingos, which can make a pass quite difficult to attain. As hotel guests have priority, if many choose to see the flamingos, then very few days passes will be given out, so you will need to get there very early in the morning.
However, if you are lucky enough to acquire a day pass, you can feed the flamingos food purchased from nearby vending machines and observe these magnificent creatures up close.
6. Wreck diving
In Aruba, one of the most interesting things you can do is dive to see the SS Antilla, one of the largest shipwrecks in all of the Caribbean. This German freighter was set on fire by its crew and captain, not to be taken over by Aruban military forces in 1940.
If you dive and swim near this shipwreck, you will find an abundance of unusual sea creatures that you will not easily find elsewhere, and this place is known for its ability to take photos due to the calm waters.
Whether you are interested in the wreck's history or want to get a good glimpse of the corals and colorful fish nearby, everyone in the family or party will be happy on this adventure.
7. Kite Surf
Aruba is known for its windy nature, which might not be the best time for your hairstyle, but it is an incredible place for kite surfing. This fun and active tour is good for beginners and those who have been on this tour before, and you can even get lessons from local kite surfing schools.
With a few lessons on kitesurf properly, you can jump in the water and try out your new skills while admiring the island in a whole new light. It's not an adventure you have in many other places, so you'll want to have a friend or family member capture your surf on camera!
8. Eagle Beach
If you want to stay close to the cruise port and settle on the sand, then heading to Eagle Beach is your best option. This beach is just a few kilometers from the port and has a perfect laid-back environment for lounging and relaxing in the sun.
Many trees on this beach provide an escape from the hot sun when you need them and are great for picnics under lunch. You can bring your lounge chairs and blankets for sitting or lying down, but you can rent one from one of the hotels nearby if you don't have one.
9. The butterfly farm
Want to see something interesting? Next, discover the Aruban Butterfly Farm. This attraction is popular on the island and offers guides through the farm with tours that give you information about the life cycle of these little insects and other interesting facts.
You will walk around the area and have the chance to see colorful and unique butterflies as they flit around the cages. If the time is right, you might even see a caterpillar transform into a beautiful adult butterfly in front of your eyes.
It's a family choice that kids and parents will love. Things To Do In Aruba
10. Explore the dunes – Things To Do In Aruba
The dunes are unlike any you might have seen before and are big draw travelers worldwide. The dunes are covered in snowy white sand, which has a sheen and brightly colored plants around the area, making the scene almost magical. Things To Do In Aruba
These dunes are a great place to walk and explore what is in the area with the chance to see the giant boulders that rest around the sand. Between huge rocks, colorful plants, and glittery sand, this scene looks like it came straight out of a fantasy movie.
You can also check out the California Lighthouse right next to the Arashi Dunes. is the northernmost part of Aruba.
11. Sailing tours – Things To Do In Aruba
For nautical travelers there, you'll want to check out the sailing tours that Aruba offers. With a slow and relaxing boat ride that makes stops along the way for snorkeling, or a luxury option that takes you on a larger boat that lets you stretch out and have a few drinks on the water. Things To Do In Aruba
There are tours you can do during the day that will show you the sunny side of Aruba while staying cool on the sea, or – if your cruise ship stays docked until later at night – you can choose the sunset sailboat tours that take you just in time to see the bright orange and yellow sunset on the horizon
12. Eat at local restaurants
There are many local places in Aruba where you can grab a small bite, sweet treat, or cool drink during the hot day that you can experience during your stay. Restaurants in the area will serve up local catches for the freshest seafood you can get with a side of warm papaya sauce – which is an Aruban staple condiment – and freshly cooked rice and beans. Things To Do In Aruba
Many specialty cocktails are served at these local restaurants, prepared and garnished with fresh island fruits. With the freshest ingredients and the most interesting mix of flavors, you'll love walking from place to place, trying each restaurant's specialty.
Many are a short walk away if you want to spend the day walking over the food you eat, but other places are within a cab distance if you want to walk a bit further. Just make sure you leave enough time to get back to port.
13. Visit a donkey sanctuary – Things To Do In Aruba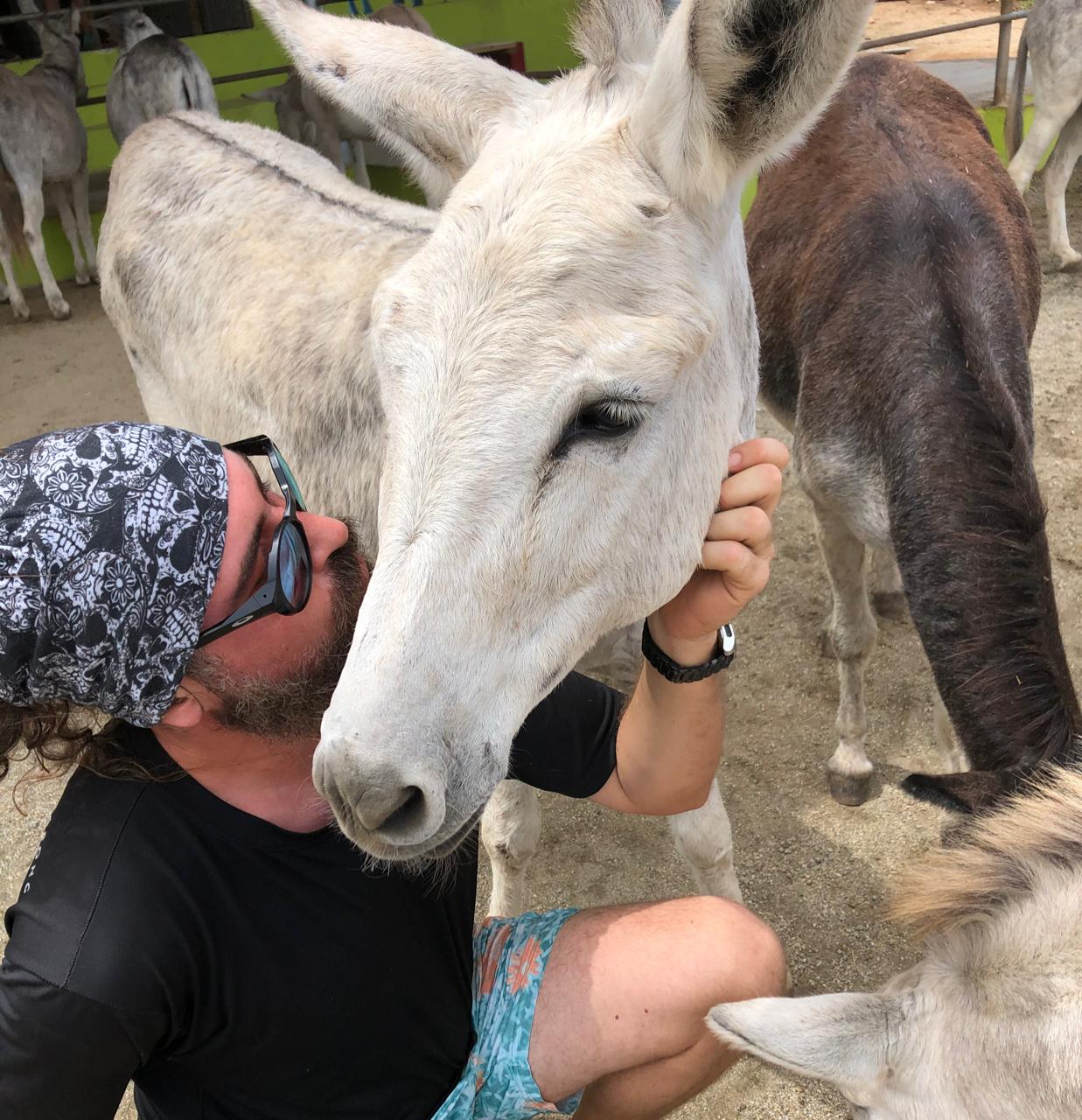 No, that's a real thing! You can hitchhike to the sanctuary and have the chance to see over 100 donkeys being raised there. After almost disappearing only 20 animals of their species, this sanctuary has raised many donkeys among these few and protected them from diseases and accidents.
In this shrine, you can pet these adorable and loving creatures and let them eat from bags filled with fruits and vegetables for them however you want. With these furry animals roaming around and begging visitors the pet them, you'll fall in love within minutes.
This shrine does not have an entrance or a ticket to enter the premises, so it is ideal for families on a budget. Still, you can offer a small cash donation to support the important work to prevent the donkeys' population from dying.
14. Baby Beach – Things To Do In Aruba
Unlike some of the larger beaches close to the cruise port, Baby Beach offers a more remote area that allows you to get crowds for a day of fun in the sun. With palapas and umbrellas for hire, you can pay without rushing to beat up other tourists at the beach and settle in for a day of sunbathing and swimming in the clear water.
The sand is smooth and silky on this beach and is great for walks along the shore, and the water is extremely clear in this area making for amazing snapshots of your time here. There are bars nearby where you can order a drink to sip on the sand, and you can even snorkel in these waters.
However, if you decide to snorkel here, you should watch for signs of blocked areas where the current will become too strong for such excursions.
15. Ruins of Balashi – Things To Do In Aruba
These ruins were once sites where miners searched for gold, but after being devastated by World War I, they began to crumble and create the view that is there today. Going to the ruins will give you a good overview of the history of the area and an overview of the original structures before they completely disappear.
The tops of the ruins provide stunning views, and the surrounding area is the perfect place for ATVs and all-terrain vehicles to explore the land. These ruins are also on the dune path, where you can also take mountain bikes, and are a great first stop on the way.
These ruins are unlikely to be seen in the years to come, so take the opportunity to see them while you can!
Conclusion
Aruba offers many opportunities to see beautiful landscapes and natural treasures. Whatever adventure you choose to embark on, you can have a wonderful Aruba cruise excursion.
Is there anything to do in Aruba?
Horse riding tour. ,
Off-Roading, Jeep, and ATV Tours. ,
Aruba Ostrich Farm. ,
Aruba Walking Tours. ,
Bushiri Karting Speedway. ,
Butterfly Farm. ,
California Lighthouse. ,
Caves.
What is Aruba known for?
Aruba is one of the picturesque Lesser Antilles islands found off the coast of Venezuela. It is best known for its dazzling white beaches, but off the coast, there are fascinating desert-like landscapes, colorful architecture, and vibrant arts and social scenes to visit.
Are three days in Aruba enough?
There is so much to do in Aruba that it wouldn't be possible to do it all in just three days. Fortunately, three days is still plenty of time to visit some of the best places this little island has to offer. If you want your vacation to be the best so far, give us a call so we can book your daily excursions!
Is it expensive to visit Aruba?
Aruba is expensive, but you can pay in US dollars or local currency. There's no getting around it: Aruba is expensive. Most products, food, and other goods are imported from elsewhere, and hotel rooms are premium.
Related Searches
Aruba visa
Aruba Pays Dangers
Aruba Guide
Aruba, Curacao
Aruba Hotel
Aruba Tourism
Aruba Plage
Aruba carte
20 Stunning & Fun Things To Do In Albuquerque 2022
20 Best & Fun Things To Do In Santa Fe 2022
15 Best Great Things To Do In Reno 2022