Top 19 hotels in charleston Sc & Lodging Guide 2022
Charleston, South Carolina, is a historic port city founded in 1670. It is a popular tourist destination due to its rich history, hospitable people, distinguished restaurants, and well-preserved architecture. It is an exciting city to visit, and your stay is enhanced by choosing the right hotel to meet your needs.
If you're seeing this area, there are some fantastic hotels to choose from, each with unique features that appeal to different people. While for some, the central location is the hotel's key selling point, others focus on providing a wide range of facilities for their guests or are known for their excellent hotel restaurants. Which one you choose will depend on your budget and personal preferences. To help you choose the best lodging for you, the following are the top 20 hotels in Charleston, South Carolina.
1. Francis Marion Hotel
Period-inspired details create an Old World atmosphere at the historic downtown Francis Marion Hotel. Both the rooms and common areas are decorated with a nod to the property's origins in the 1920s. Although the decor is period in style, the in-room amenities are modern. These include pillow-top mattresses, free Wi-Fi access, HDTVs, and Bluetooth alarm clocks. There are also some excellent facilities at this hotel, including a gym, conference center, and spa. Also, there is a wonderful restaurant called The Swamp Fox Restaurant & Bar that serves delicious country cuisine.
2. Andrew Pinckney Inn
The Andrew Pinckney Inn is located in the heart of Charleston's historic district. This boutique hotel has a bright yellow exterior, making it stand out from other hotels in the area. There are 41 rooms and suites, all decorated in a British West Indies style with a warm color palette, dark wood furnishings, and plantation-style windows. Guests can enjoy their complimentary breakfast on the rooftop terrace while enjoying city views. They can also enjoy complimentary tea, coffee, and biscuits in the afternoon. Near the hotel, there are many excellent restaurants and bars. Customer service is one aspect of the hotel that past guests have praised.
3. Elliott House Hotel
The property that houses the Elliot House Inn originally burned in the Great Fire of 1861 and was later rebuilt. It was restored and opened as a hotel in 1981. Many of the original architectural features remain in the building, including some of the bricks recovered after the fire. Despite the historic feel of the hotel, the 26 rooms are modern and contain a good range of amenities to ensure a comfortable and enjoyable stay. Guests can enjoy many complimentary features, including breakfast, concierge service, bike rentals, and a nightly reception serving cheese and wine. The hotel is in a good location for access to all that Charleston offers.
4. The Sanctuary at Kiawah Island
To enjoy the amenities and attractions of the city while relaxing in a peaceful environment, a great place to stay is The Sanctuary at Kiawah Island. This majestic resort is one of the most luxurious options in the area surrounding Charleston and has plenty of features and amenities to keep any guest entertained. There are six swimming pools, five championship golf courses, 24 tennis courts, and a ten-mile stretch of private beach. The interior of this hotel has a quirky style reminiscent of old plantation mansions. There are 13 dining options at this resort, ranging from casual dining to fine dining. Some of the best include a top-tier steakhouse called The Ocean Room,
5. Zero George Street
Guests of this hotel have liked to stay here to stay at a friend's house due to the intimate and comfortable feel of this 16-room hotel. Zero George Street is a luxury boutique hotel in an 1804 property that is part of a row of restored carriage houses and row houses. The dining and drinking experience is essential for staying at this hotel. Guests can take cooking lessons, and there are complimentary wine and cheese boards. The hotel's Zero Restaurant + Bar is highly acclaimed. Inside the hotel, the décor is predominantly a soft white.
6. Renaissance Charleston Historic District Hotel
Ideal for both business and leisure travelers, this hotel is centrally located in the historic district of downtown Charleston. Full-service business centers and in-room Wi-Fi are great for business travelers. Those visiting for leisure can enjoy the heated outdoor pool, bar, and excellent restaurant. The rooms are high standard with comfortable beds, marble bathrooms, and city views.
7. Wild Dunes Resort, a destination hotel
Located on the Isle of Palms, just outside of Charleston, Wild Dunes Resort is a fantastic option for those who want easy access to the city but prefer a less urban location for their accommodation. This resort has so much to offer that there is no reason to leave the grounds if you don't want to. There are two golf courses, a spa, a variety of wellness services, tennis courts, restaurants, various activities, and excellent room services. The hotel also has a boat that travels to Alcaparras Island to enjoy the natural surroundings.
8. The Beach Club at Charleston Harbor Resort & Marina
This hotel is different from other Charleston hotels, mainly located inside historic buildings.
It is a modern beach-themed hotel situated on the seafront and about outdoor activities. Guests can enjoy activities such as boat trips or the opportunity to take sailing lessons. Rooms have water views, outdoor lounges, cabanas, and fire pits. One of the best features is the vast outdoor pool.
9. The Mills House Wyndham Grand Hotel
The Barbados Restaurant is one of the best features of The Mills House Wyndham Grand Hotel. Guests have also praised the personal services available and the hotel's location near local attractions. Outdoor spaces for guests to enjoy include the pool and attractive courtyard. Although the rooms are small, they have all the necessary amenities for a comfortable stay.
10. Grand Bohemian Hotel Charleston, autograph collection
Many guests find this boutique hotel's funky decor appealing, and its location near attractions is another big draw. Rooms have flat-screen TVs, marble bathrooms, mini-fridges, and city views. One aspect of staying at this hotel praised by past guests is the hotel's Eleva Restaurant, which specializes in farm-to-table dining. Other hotel highlights include a rooftop bar, coffee shop, and Bohemian wine tasting and blending room.
11. La Vendue
The Telegraph says that this hotel consists of two separate buildings with 84 rooms between them. It is described as an artsy hotel formed from reclaimed 18th-century warehouses. The main building has access to excellent amenities, such as a modern art gallery, a panoramic rooftop Guest lounge, an excellent restaurant, and a coffee shop. Guests can also take advantage of complimentary wine receptions in the afternoon and milk and cookies in the evening.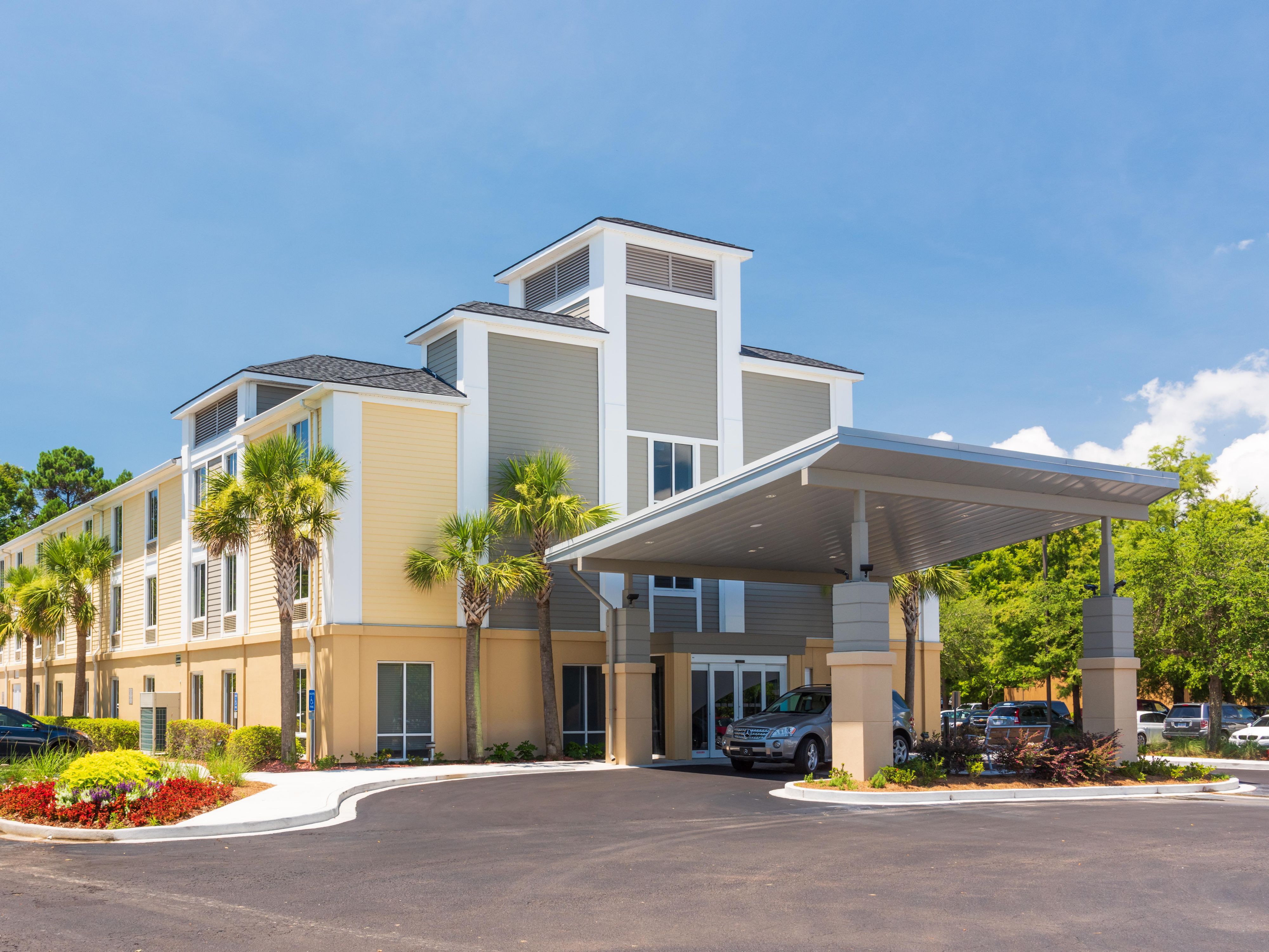 12. The Restoration
If you want to stay in a more prominent hotel with plenty of guest amenities, look no further than The Restoration. Ideally located near downtown Charleston's top landmarks and attractions, this historic hotel is spread over five neighboring buildings. Some of the many amenities at this fantastic hotel include The Port Mantle retail store, The Amethyst Spa, a rooftop pool, the Indigo pool, a fitness center, complimentary bike rentals, and The Watch Rooftop, which is a city restaurant. Farm to table. The rooms are spacious, and there is also the option of staying in studio suites or two-bedroom suites.
13. Market Pavilion Hotel
A modern and luxurious option, the Market Pavilion Hotel is located along Charleston's City Market Street. Built-in 2003, the hotel has added features to give it a historical touch despite being modern, such as elaborate decor and carved furniture. Guests can enjoy Hermes brand toiletries and oversized marble bathrooms in their rooms. Facilities include a rooftop pool and Pavilion Bar.
14. Harbor View Inn
The beachfront location of this hotel is one of the characteristics that make it so attractive for those who visit the area. Rooms are comfortable and cozy yet luxurious, and many have harbor views. Tradition meets modernity with features like four-poster beds and free Wi-Fi. Guests can relax on the rooftop terrace with a drink while admiring the city and harbor views.
15. Planters Inn
Planters Inn, a beautiful downtown hotel, is located in the heart of historic Charleston. The interior has an old-world aura, giving the hotel a cozy and comfortable feel. Luxurious touches in the rooms include the stunning marble bathrooms. Another hotel highlight is the Peninsula Grill, serving delicious country-style meals.
16. Belmond Charleston Place
This hotel is conveniently located next to the City Market and close to attractions like numerous art galleries and the Old Slave Mart Museum; this hotel attracts business and leisure travelers alike. Thanks to the wide staircase and carved furniture, there is a feeling of grandeur once you enter. The rooms have marble bathrooms with bathtubs or showers. Guests can enjoy spending time in the infinity edge, salt water, indoor/outdoor pool, or relax in the hotel's spa.
17. French Quarter Inn
This popular hotel is located in the French Quarter, as its name suggests. It is a luxury boutique hotel that is close to many important places. The spacious rooms feature modern amenities, and guests receive a complimentary breakfast daily. French Quarter Inn has received many accolades for its excellent customer service and friendly staff.
18. The Spectator Hotel
Town and Country magazine lists The Spectator as one of the best restaurants in Charleston. This hotel is just one block from the city's historic marketplace and is designed in the spirit of the 1920s, giving it an appearance similar to that of a gentleman's saloon. It's all about customer service at this hotel, and guests have access to personal butler service.
19. The Dewberry Charleston
Once a federal building, it took eight years to restore this property to today's impressive hotel. The interior has been designed to reflect the old-world charm of Charleston, and this theme runs throughout the 155 guest rooms and public areas. Despite the traditional style, the rooms feature many modern amenities. Facilities for guests include a roof terrace.
What is the #1 hotel in Charleston SC?
1 pick for the top city hotel in Charleston. Read on to find out what makes this winner, the John Rutledge House Inn, so special — and for the full list of 15 spots.
Where is the best part of Charleston to stay?
If you are visiting Charleston, we recommend you stay in the Historical District, situated just 20 minutes from the airport. Here you will find many restaurants, fashion boutiques, antique shops, magnificent old houses, art museums, ghost tours, historical tours horse-carriage tours and much more.
Why are hotels so expensive in Charleston SC?
It is simple supply and demand. Charleston is the number 1 tourist city destination in the world. We don't really have an "off season" any more, some are less busy, but the hotels can sell the rooms year round. Most of the year, you won't find a hotel room in the historic district for twice that price.
How many days do you need to visit Charleston SC?
Two days is a little short, especially if you are not staying downtown. Three full days would be better, but you could easily enjoy at much longer stay. If you plan to visit any of the plantations or beaches, allow at least four full days. Nonetheless, any time spent in Charleston is better than none.
Costco Pendleton Blankets Sherpa Queen Size Blankets Selling Cozy 2022
Related searches
oceanfront hotels in charleston, sc
safe hotels in charleston, sc
hotels in downtown charleston, sc
cheap hotels in charleston, sc
best hotels in charleston, sc
marriott hotels in charleston, sc
condé nast best hotels in charleston sc
hotels in charleston, sc historic district
20 Best Destinations For your Honeymoon Places 2022
11 Best Beach in California (2022) Top Beach Spots
15 Best Things to Do in Santorini (Greece) 2022
Top 17 Things to Do in Philadelphia with Kids – Big 7 Travel 2022
Top 19 hotels in charleston Sc & Lodging Guide 2022